Gestion des images Android: Pourquoi définir des images en hdpi,mdpi et ldpi ? (et xhdpi)

Un article de MathiasSeguy

Pas de commentaires

Dans mon post précédent nous avions compris pourquoi il fallait déclarer ses images dans le fichier de layout en dp (density-independent pixel). Ainsi, quelque soit la densité de l'écran, l'image prend la « même » taille.
Le corolaire est que si vous ne définissez vos images (dans le fichier drawable) de manière unique quelque soit la densité, celles-ci apparaitront grossières en hdpi (et aussi en ldpi).
Ainsi, chaque image (en particulier vos icônes) doit être dessinée en ldpi, mdpi et hdpi.
Pour cela, il faut redimensionner chaque image en appliquant la règle suivante:
Pour une image de taille n*m en mdpi, vous devez définir une image en (n*1.5)*(m*1.5) en hdpi et une image (n*0.75)*(m*0.75) pour le ldpi. Donc vous devez toujours définir 3 tailles d'image pour chacune de vos images.
Alors vos IHMs seront valables pour toutes les densités.
Enfin, si vous souhaitez programmer pour les tablettes, n'oubliez pas que le xhdpi est disponible et pour cette densité, il faut encore dessiner une nouvelle image de taille (2*n)*(2*m).
Le ratio pour se souvenir de tout cela est : 3|4|6|8 (ldpi|mdpi|hdpi|xhdpi)
La source de ce post:http://developer.android.com/guide/practices/screens_support.html :
« Alternative drawables
Almost every application should have alternative drawable resources for different screen densities, because almost every application has a launcher icon and that icon should look good on all screen densities. Likewise, if you include other bitmap drawables in your application (such as for menu icons or other graphics in your application), you should provide alternative versions or each one, for different densities.
Note: You only need to provide density-specific drawables for bitmap files (.png, .jpg, or .gif) and Nine-Path files (.9.png). If you use XML files to define shapes, colors, or other drawable resources, you should put one copy in the default drawable directory (drawable/).
To create alternative bitmap drawables for different densities, you should follow the 3:4:6:8 scaling ratio between the four generalized densities. For example, if you have a bitmap drawable that's 48×48 pixels for medium-density screen (the size for a launcher icon), all the different sizes should be:
36×36 for low-density
48×48 for medium-density
72×72 for high-density
96×96 for extra high-density
For more information about designing icons, see the Icon Design Guidelines, which includes size information for various bitmap drawables, such as launcher icons, menu icons, status bar icons, tab icons, and more. »
Alors, merci qui?
Merci, Android2ee, les Ebooks de programmation Android :o)
Mathias Séguy
mathias.seguy.it@gmail.com
Auteur Android2EE
Ebooks pour apprendre la programmation sous Android.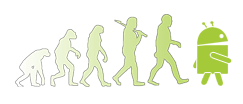 Laisser un commentaire
Vous devez être connecté pour poster un commentaire.