Google IO : A ne pas rater

Un article de MathiasSeguy

Pas de commentaires

Les Google I/O vont commencer.
Elles seront disponibles sur le web en live-streaming (pour certaines).
Pour ceux qui sont intéressés par Android il y a beaucoup de session sur le sujet.
Le programme se trouve ici:
http://www.google.com/events/io/2011/sessions.html
Vous remarquerez la combo box de sélection (filtered by) pour voir celles qui concernent Android.
Vous trouverez:
Best Practices for Accessing Google APIs on Android
Android + App Engine: A Developer's Dream Combination
HTML5 versus Android: Apps or Web for Mobile Development?
Don't just build a mobile app. Build a business.
Taking Android to Work
Android Protips: Advanced Topics for Expert Android App Developers
3D Graphics on Android: Lessons learned from Google Body
Bringing C and C++ Games to Android
How to NFC
Accelerated Android Rendering
Designing and Implementing Android UIs for Phones and Tablets
Android Development Tools
Leveraging Android Accessibility APIs To Create An Accessible Experience
Fireside Chat with the Android Team
Honeycomb Highlights
Evading Pirates and Stopping Vampires using License Verification Library, In-App Billing, and App Engine
Optimizing Android Apps with Google Analytics
Building Android Apps for Google TV
Building Aggressively Compatible Android Games
Memory management for Android Apps
Android Market for Developers
Et oui, moi aussi, je suis tout triste de ne pas pouvoir y participer…. heureusement certaines seront disponibles en live-streaming… mais à quelle heure de la nuit?
Alors, merci qui?
Merci, Android2ee, les Ebooks de programmation Android :o)
Mathias Séguy
mathias.seguy.it@gmail.com
Auteur Android2EE
Ebooks pour apprendre la programmation sous Android.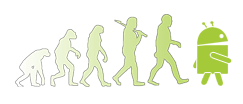 Laisser un commentaire
Vous devez être connecté pour poster un commentaire.