Conférences IBM BeLux

Un article de Petrus

Pas de commentaires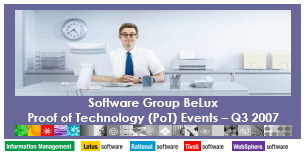 Voila, je sors de 2 jours de conférences « Proof of Technologies » (PoT) organisé par IBM Luxembourg. Le sujet était SOA featuring IBM Websphere Application Server 6.1, en gros une démystification du concept SOA (Service Oriented Architecture vu par IBM, et de leurs différentes solutions d'ESB, basées sur WAS 6.1. J'ai juste regretté la partie Overview de WAS 6.1 un peu longue, car je connais déja bien le produit, et l'absence de Lab sur l'implémentation d'un ESB hautement disponible.
Clients IBM, Business partners, ou IBMers, profitez de toute une série de PoTs organisés à Bruxelles ou à Luxembourg, sur de nombreux sujets : SOA Governance, Websphere Service Registry and Repository, Websphere XD, Rational, Websphere Portal, QualityStage, Lotus Sametime, EoT – Master Data Management (MDM), Websphere ESB, zOS, DB2, BPN, Tivoli, etc…
Laisser un commentaire
Vous devez être connecté pour poster un commentaire.