Microsoft DTC (MSDTC): Unable to begin a distributed transaction

Un article de Petrus

Pas de commentaires
L'un des mes projets contient une partie d'intégration de Microsoft SQL Server 2005 avec Microsoft SQL Server 2000. Le recours à des appels SQL distants s'est imposé pour certaines procédures stockées, parfois fortement transactionnelles. J'ai ainsi rencontré l'erreur suivante, lors de l'exécution d'une procédure stockées SQL Server 2005 (Windows 2003 Server), contenant un appel distant à une autre procédure stockée hébergée sous SQL Server 2000 (Windows 2003 Server):
OLE DB provider "SQLNCLI" for linked server "190.150.7.1" returned message "No transaction is active.".
Msg 7391, Level 16, State 2, Procedure Sp_Foo, Line 5
The operation could not be performed because OLE DB provider "SQLNCLI" for linked server "190.150.7.1" was unable to begin a distributed transaction.
La première étape est de s'assurer que le service Microsoft DTC (Distributed Transaction Coordinator) est correctement démarré sur les 2 serveurs (en ligne de commande par exemple):
net stop msdtc
net start msdtc
Seconde étape, s'assurer que le firewall intégré ou tiers ne bloque pas Microsoft DTC.
Enfin, après ces vérifications standards, modifier les paramètres de sécurité de Microsoft DTC: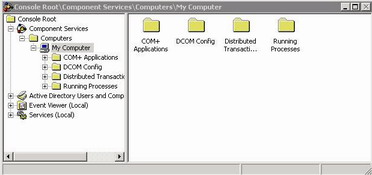 « Control Panel\Administrative Tools\Component Services » ; Sélectionner ensuite « Component Services\Computer\My Computer », clic droit et « Properties ».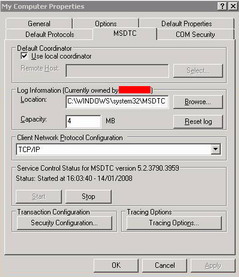 Aller à l'onglet MSDTC, puis « Security Configuration ».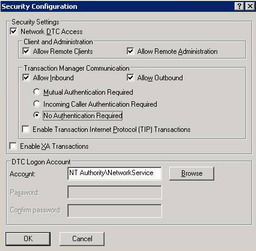 Activer « Inbound » et « Outbound », puis sélectionner « No Authentication Required »
J'avoue avoir perdu de longues minutes pour résoudre ce problème, peut-être ce topic vous évitera t-il de chercher plus longtemps ;-).
Laisser un commentaire
Vous devez être connecté pour poster un commentaire.